Physical Therapy and Rehab From Our Glen Carbon Chiropractor
Physical therapy and rehab are an important part of chiropractic care. While our first goal when you come to Integrated Medical Group is to relieve your pain and help you get your mobility back, ultimately you want you to regain full function and experience as little pain as possible. Physical therapy allows us to accomplish this goal. As your Glen Carbon chiropractor, we are here to help you get back on your feet and back to the things you love!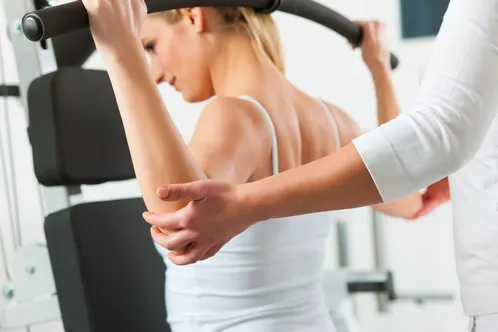 What is Physical Therapy and Rehab?
Physical therapy and rehab are terms that refer to the process of recovering from an injury or health condition. In chiropractic care, most often physical therapy is designed to help you recover your mobility – which is often limited after an injury, especially a neck or back injury – and to help you lessen and hopefully relieve symptoms like pain.
The process of physical therapy is based on the specific problems you are experiencing. For instance, if you have a back injury, rehab will include exercises to strengthen your core, both back and abdominal. As you get stronger, you will be better able to support the injured area, which means it will have a better chance of healing.
Physical therapy often involves stretching as well as strengthening. Muscles and other soft tissues tend to become tight after an injury, which makes it hard to move and may aggravate an injury. Stretching will gently loosen those tissues.
From car accidents to workplace accidents, slip and falls to degenerative diseases, our physical therapy team can guide you towards a future where you feel better and move better than you do now.
Treating a Variety of Injuries at Our Chiropractic Clinic near Glen Carbon, IL
The team at Integrated Medical Group is well-equipped to treat a wide variety of injuries. As your chiropractor near Glen Carbon, IL, we can assist you with:
Auto Accident Injuries - Car and truck accidents can do a lot of damage to your body, even when the accident is relatively minor. You may be in pain, unable to move like you used to, and wondering if there is a light at the end of the tunnel. Our physical therapy team can help you get stronger, lessen your pain and improve your condition.
Workplace Injuries - Physical therapy is excellent for treating injuries sustained at work, ranging from back injuries to repetitive motion injuries like carpal tunnel. As part of your therapy, we can also show you safer ways move while you do your job.
Sports Injuries - Even the strongest athletes sustain injuries from time to time. Physical therapy is an important part of their recovery process, and it can be just as effective for your sports injuries.
Schedule an Appointment for Physical Therapy Rehab
If you are suffering from an injury or other health condition, we encourage you to contact us and schedule an appointment for physical therapy rehab. Just give us a call at (618) 692-6700 today and we will be happy to help