Chiropractic in Glen Carbon—Services at Integrated Medical Group
Are you seeking an experienced healthcare professionals offering natural, non-invasive chiropractic in Glen Carbon, Greenville, Carlyle or Highland, IL? Here at Integrated Medical group, we treat a variety of injuries and health conditions using integrated, holistic approaches designed for your specific concerns. If you are in pain from an injury, herniated discs, a degenerative condition, or have health issues such as migraines, fibromyalgia, chronic fatigue or depression—chiropractic in Glen Carbon can help you get relief!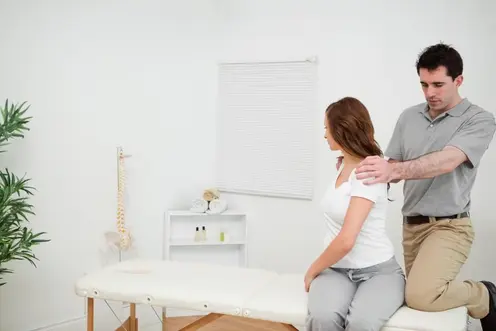 Meet the Integrated Medical Group Team
You won't find a more skilled team that's prepared to tackle your health and wellness problems with chiropractic in Glen Carbon than our skilled doctors. We approach treating every patient with a 'whole person' mentality to promote overall wellness and long-term relief. With almost two decades of experience, Dr. Thayer is now one of an elite group of practitioners certified in administering Manipulation Under Anesthesia (MUA). Dr. Lance Rahden has successfully treated an array of conditions including back, neck and shoulder pain and health conditions including headaches, GERD, Bells' Palsy, IBS and neuropathic conditions.
Our Chiropractic Services and Techniques
Chiropractic Adjustments - These are gentle, manual manipulations of the spinal column designed to realign vertebrae and alleviate impingements upon nerve endings that source pain and hinder signal communication throughout the body.
Physiotherapy Techniques - We complement chiropractic care with non-invasive procedures to reduce pain, swelling and promote faster healing. These physiotherapy techniques include:

Electrical Muscle Stimulation
Mechanical Traction
Ultrasound
Cryotherapy/Diotherapy
Micro-amperage Neural Stimulation

Physical Therapy Rehabilitation - Serious or chronic injuries may call for physical therapy to help restore mobility and increase strength while promoting the healing process and reducing pain. You will also be expected to do some corrective exercises at home as part of therapy.
Massage Therapy - Our licensed massage therapist, William Sear LMT, specialized in a number of techniques ranging from infancy, pregnancy and geriatric massage to techniques including trigger point therapy, myofascial release, polarity therapy and cranial-sacral therapy.
Nutritional & Lifestyle Advice and hCG Diet Plans - We can help guide you to better health with counseling concerning lifestyle and nutritional alterations to promote achieving your goals. We also offer hCG programs under the guidance of our nutritional counselor.
Additional Services We Offer
Manipulation Under Anesthesia involves 'twilight' sedation that relaxes the patient during chiropractic adjustments and treatments.
Infrared Light Therapy is a more intense form of cold laser therapy that penetrates deep into the skin tissues. We use this to treat inflammation, muscle damage, and wounds so they'll heal quicker.
DEXA Scanning technology allows us to test for degenerative conditions, bone fractures by detecting abnormalities in bone density.
Acupuncture, Auriculotherapy, and Acu-Staple are techniques that involve needle insertions in targeted pressure points on the body and ears. These
techniques can promote healing, reduce pain and even curb addictions.
Contact Integrated Medical Group Today!
Learn more about our innovative services and chiropractic techniques by contacting your local Integrated Medical Group Offices in: Glen Carbon, Highland, Carlyle and Greenville at (618) 692-6700