Personal Injury Treatment at Integrated Medical Group
Whether suffered on-the-job or in another type of traumatic accident, a personal injury can be hugely disruptive to your life. Our chiropractor can treat a range of problems associated with a workers injury or other type of personal injury, and we'll put together a personalized treatment plan based on the diagnosis of your condition.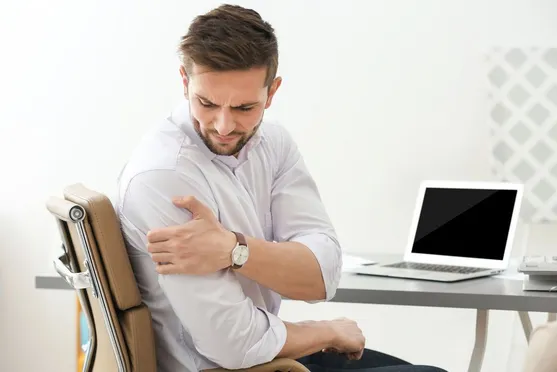 Types of Personal Injury We Treat
Our patients come to us for personal injury treatment with a range of issues. For instance, we often see patients with herniated or ruptured discs suffered in a motor vehicle collision or work-related accident. Other common workers injury conditions we treat include sprains and strains, neck pain, back pain, whiplash, headaches, pinched nerves, and more. Many of our patients suffer from pain related to multiple injury points, and our integrated approach allows us to treat all underlying causes of your symptoms at once.
Chiropractic Workers Injury Treatments
The chiropractic approach to workers injury treatment focuses on restoring proper alignment to help you regain normal function in the injured area. We accomplish this through a combination of targeted chiropractic adjustments, soft tissue treatments like massage therapy, and therapeutic exercises.
To determine precisely what personal injury treatments will work best for you, we'll complete a thorough evaluation so that we understand the nature and extent of your injury. We'll also go over the details of your accident with you, as well as the progression of your symptoms, and we'll use all of this information as we formulate our approach to treatment. We may also recommend some additional diagnostic imaging tests.
Benefits of Chiropractic Personal Injury Treatment
The benefits of chiropractic care in treating a personal injury are many and varied. For instance, our approach is non-invasive, and we start restoring function with the first treatment at our clinic. That means you don't have to wait for an extended period before you begin working toward normal activities again as you often would after surgery.
Our treatments also don't rely on prescription pain medication to provide pain relief. Instead, we utilize techniques that work with your body's natural healing processes. This is accomplished through the use of personal injury therapies that help reduce inflammation and promote efficient circulation of nutrients to the injured area, all of which makes it more likely that the tissues will heal as quickly and as completely as possible.
Prompt and Professional Chiropractic Care
If you've suffered any type of personal injury, it's important to begin treatment as soon as possible in order to obtain the best possible outcome. With some types of injuries like whiplash, it can take time for symptoms to develop, but that doesn't mean the damage hasn't been done, and so the sooner you seek treatment, the sooner you'll be starting down the path to recovery.
To learn more or to schedule an appointment, call us today at (618) 692-6700. We have offices conveniently located in Glen Carbon, Highland, Carlyle, and Greenville.